Digital Learning Experience
A Learning Management System (LMS) for the Knowledge Economy

Simple and Intuitive
Astonishingly Powerful. Incredibly Simple.
Intuitive user experience designed to maximize adoption and ease of use from an administrative and end-user point-of-view.

Mobile Ready
Anytime and Anywhere
Access your learning on PCs, Tablets, and Smart Devices.

Learner Centric
Designed to Elevate Learning.
Designed by the experts who understand how people learn better than anyone else and have poured this knowledge into the product.

Increase Adoption
Leverage Gnosis LMS's Cloud and Mobile.
Mobile-ready capabilities to provide your learners 24/7 access to training programs anytime, anywhere and on any device!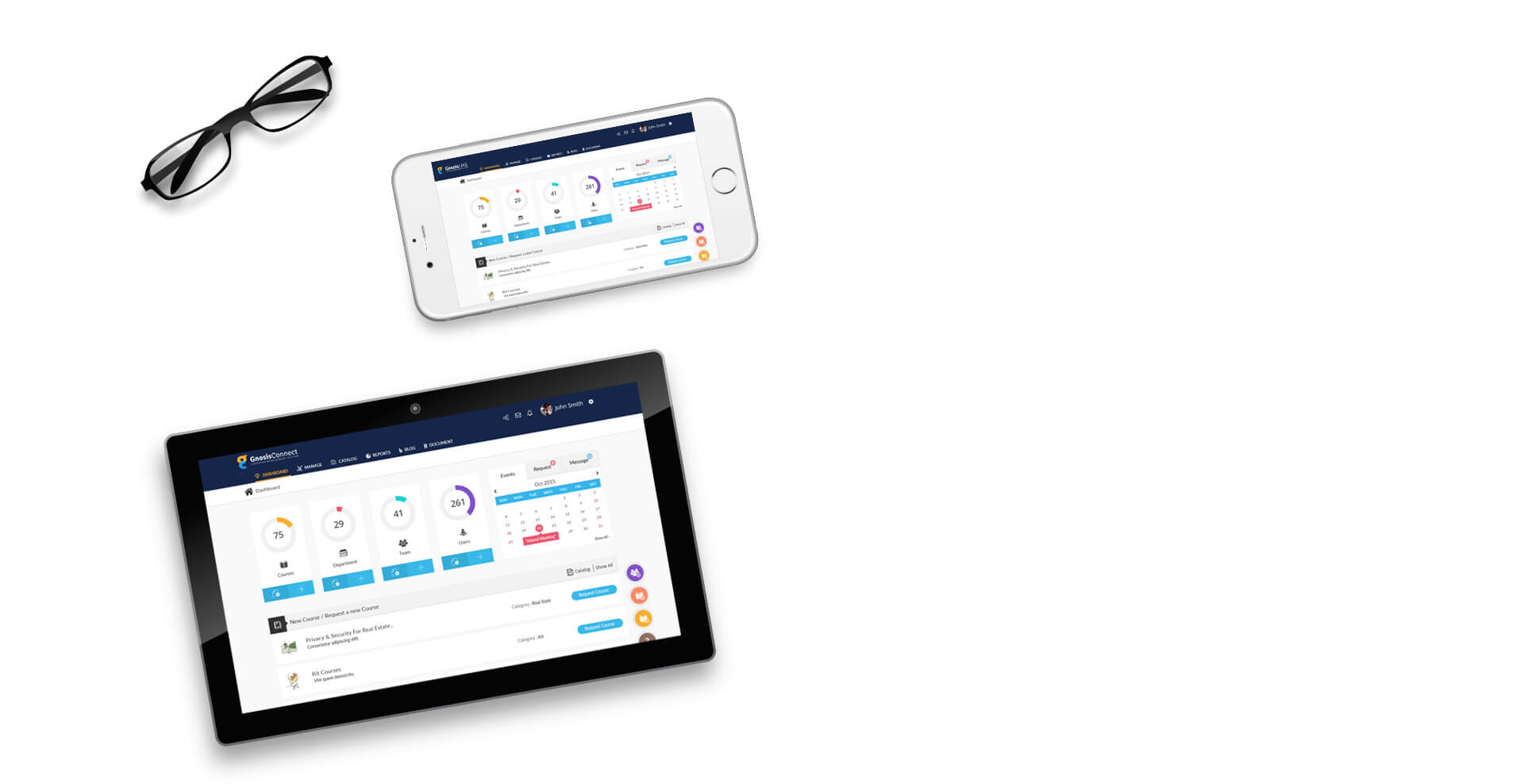 GnosisConnect is for...
Organizational Development

Increase the knowledge footprint of your organization.

Onboarding and Induction

Shave weeks off your onboarding program and provide an engaging learning experience.

Customer and Product

Combine cutting-edge training tools with product training strategies for end-to-end customer satisfaction.

Sales Enablement

Connect training outcomes with sales performance to determine where to invest.

Compliance and Regulatory

Track results and generate reports to meet your industries compliance requirements.

Leadership and Management

Create a leadership pipeline by leveraging best practices of training and development.
Start your 30-day free trial

No credit card required
Benefits and FeaturesWith GnosisConnect you get best-in-class features for Learning Management and Administration!
Actionable Reports

Reporting and Analytics designed for measuring learning uptake and effectiveness.

Reduce Cost

Our cloud-based model brings you economies of scale like you never imagined before!

Scale

Ability to scale to an unlimited user base and storage with one click.
Start your 30-day free trial

No credit card required
View more features
Looking for customization?
Designed by Learning Professionals for Learning Professionals, GnosisConnect Enterprise Edition is a cutting-edge, scalable, and multi-tenant LMS framework that can be customized to your business need!

GnosisConnect Enterprise Edition

The GnosisConnect Enterprise Edition is designed for custom/bespoke/implementation and leverages the GnosisConnect framework to deliver exceptional learning experiences.

Integrate GnosisConnect with your Internal Systems

Centralize learning across the organization

Analytics that are aligned to your business needs

Unlimited courses and unlimited users

Request a demo Explore